The phrase "Don't judge a record by its sales" seems to be applied to the works of this ska unit from Cibubur. The band did not have fantastic sales compared to other names at that time, but they were one of the milestones in ska history in the country. Their "self-titled" became the soundtrack of life for many young people at that time. In fact, it became the inspiration for many ska outfits after them.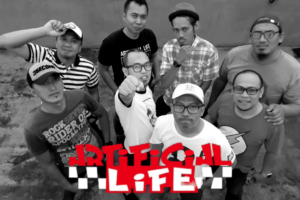 Having been on hiatus, and having reunited a few years ago, this unit is back with a new track. As stated on their press release, they prepared a sequence to celebrate 25 years of Artificial Life's journey. Their first move is to release a single "Bila".
The song, which was supposed to be released in 2002, premiered on their YouTube channel, 23 October 2021. Recorded live, this single comes with an acoustic ska rhythm. "Bila" is a little reminiscent of their legendary track; "Lagu lama". This single comes in handy, with their signature attached to it; a dance mantra!. A cheerful and therapeutic track.
When this song is in the air, Artificial Life doesn't give much choice to us, do the dance or sing along with them!

(Sam)