The synonym of Indonesia Reggae, Tony Q Rastafara released two singles 'Bali Asik' and 'Lapen' (Lagu Pendek) on June 25th and July 30 on his official youtube channel and on digital platforms. These two singles were spontaneous projects starting from the early beginning to the production, said Tony to kultur.media. It is a reminiscing journey by summoning his friends (Glenn, Yoga and Yosua) who now stay in Bali to help him make the singles. It just flew, starting from the place they would usually hangout and do live performance to a studio (stone deaf music) in Berawa, Canggu, Bali, the place where ideas and creativity are molded and materialized.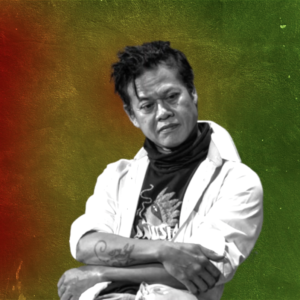 'Bali Asik' was inspired by Tony's admiration and love for the situation and atmosphere of diversity, togetherness, tolerance as well as the culture and tradition which are still strongly maintained by its people even in the hustle of newcomers and tourists. This fun atmosphere makes Tony feel so much at home.  
The minimalist visual of the clip was made by Tony himself by using his mobile phone. He pictured various footage starting from religious and customary rituals and ceremony, live music to hanging out with friends enjoying the sunset on the beach while making a toast. All that describes the cheerful moment he sings about. 
The most unique thing coming through his second single, 'lapen.' The song is only 54 second long and is very different from his typical style that we knew. Tony's songs usually carry a message to educate, advocate, and also to make a satire and euphemistic criticism. Here in 'Lapen' he is just playing around like a parody to entertain the listeners. Nothing is heavy for contemplation. Tony just invites us to sing and dance freely while it is still possible to do so. 
(Yedi)