One of the sound system culture parties in the country that has been going on for more than a decade is back. Reggae X'Mas, is one of the major annual Jamaican music parties initiated by activists and pioneers of Jamaican Sound from a Jakarta based collective, Klab Reggae 73.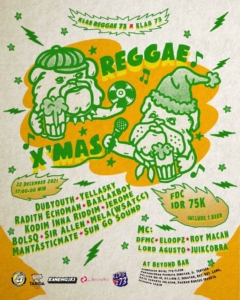 Having been absent due to the pandemic, the "Reggae X'Mas" gigs were again held on December 22, 2021, at Beyond Bar, Sunbreeze Hotel – Jakarta by Klab Reggae 73 x Klab 73. This party indeed brings their own satisfaction guarantee, the unforgettable excitement that all the party goers will have. The vibe, the headliners and of course the music that blast all through the party night.
The party started at sharp 5PM by a fascinating vinyl session from Jakarta based selecta, Sir Allen who dropped his early reggae and soul sets. Then followed by Mela who is also one of the members of the charismatic group in the country; White Shoes And The Couples Company. The vibration of the set played by one of the protagonists of this party depicts another side of her charm. Sun Go Sound keeps the energy alive with his jungle-esque tracks and makes the dance floor gently crowded with fire.
The Pantura Stylee then taking over, from the city of Cirebon, Baxlaxboy made the dance floor getting hotter. Serving his own grass rootsie setlist and also 2 single tracks for his upcoming mini album. A dub act who is known for his sweet melodic repertoire, Radit Echoman also did a nice and sweet show. Yella Sky Sound System, a dub unit from Jakarta, enlivened the dance floor by dropping his mighty dubplate. Prior to the appearance of the main guest star, Deejay Gantung brings a boisterous vibe through his own and an always luxurious vinyl set. Toasters like Juik Cobra, Roy Macan and Lord Agusto made the atmosphere even more powerful and joyful, something that always appears in every series of these serial cultured gigs.
And this is what the audience has been waiting for, a powerful unit from Yogyakarta, Dubyouth, who immediately turned on the dance floor more sweaty with their blasting setlist. Their repertoire not only creates a joyful chorus from the crowd who voluntarily and happily sing along. This magnetic duo indeed dragged all the party goers to the dancefloor.
After that, it was the turn of the pacey mood soldiers of jungle/drums and bass that took over the frenzy. The Junglists rejoiced with the performance from one of the pioneers, Jerome from the Indonesian frontline Drum and Bass collective, Javabass with his signature set. Followed by Bolsq, who is also side by side with rapper Eitaro. The final line up at the Reggae X Mas celebration, closed perfectly through an energetic accompaniment under the spell of a fantastic scenester; Mantasticmate. Reggae X'mas is indeed a powerful party!
(kultur)