Two Manila – Philippines sound system culture scenesters, Ras Taro and Red-I collaborated on an EP called "Critical Times." They teamed up with a Japanese music imprint, Oto Records.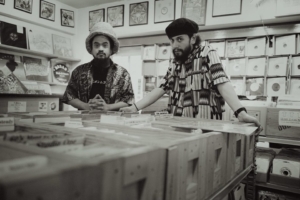 Red-I acts as a producer in "Critical Times", he brings again his signature, a mystical-scented dub wise composition. The 2 tracks that came from a mix of nyabinghi and steppers beats within the deep bassline are indeed so solid. With the helps from the name such as Cedes One Love Keys (melodica), Mark Ibañez (trumpet), Jonathan Fagtanan (trombone) and Taro Arimoto (guitar and flute) was able to fill up the space of "Critical Times" becoming more were so well lined. The big message in "War" and "Criminal" also sounds more alive, thanks to the vocal power of Ras Taro who wrote and sung the tunes powerfully.
This EP, also includes other versions of the original tracks. In addition to digital form, "Critical Times" also comes in 12" vinyl format which can be ordered through Bandcamp.
(Keyko, Sam)