Born as Lowell Fillmore Dunbar, this man started his music career at a very young age. In 1966, he first conducted recording sessions as a drummer. At that time, he was 14 years old! He is known as Sly Dunbar. Together with his lifetime partner, Robbie Shakespeare, they paint the world beautifully with the work from their musical outfit called Sly & Robbie. Until now, they have produced thousands of musical works. Brian Eno, a pioneer and innovator in music production, once said; "If you buy a reggae album, 90% chance on the record, the drummer is Sly Dunbar." A special testimony to an equally special musical journey. On May 28th 2021, Kultur had the privilege of having a telephone interview with the living legend. Here's the words.
To start this interview can be from anything, but, let us ask you about what made you start into music at the very first time?
We at first … was mm..listening to records from The Skatalites, Lloyd and Drummond and some of those American records like Cheryl Lynn stuffs and all these things that I used to listen to because where I grew up and when I was a kid kid kid before I went to Trench Town, there was like a dancehall right then by window so I used to see by the window and people were and listen to those music at light at early days you know, and then after that I moved towards, this is where I really started to get involved in it. And those Motown songs kind of make me want to do the music 
So it's true that Lloyd Knibb is one of your musical heroes?
Yeah He is. He's my hero. He's the one who made me wanna play drums.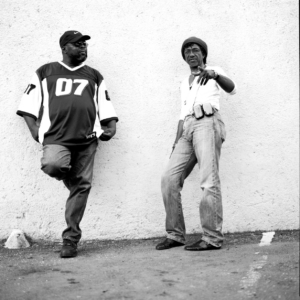 It's no doubt Sly and Robbie in arranging music and treating drum and bass. Each one capable of being mutually complementary. Sounds like Sly 'Drumbar' and Robbie 'Basspeare' spiritually connected.
Well, I think it's spiritually exciting. It's about respecting each other. Share the same ideas about music. And willing to try anything. We never blame each other, we take the blame together. We tried anything, if it worked, it worked. If it doesn't, we try again.
For any ups and downs of musical relation between both of you, everything is just fine in the end. How do you keep your energy and ideas always in the same path and direction?
Well, sometimes Robbie comes up with ideas to me, and I always say, "ok" then support him and do. And Robbie too, We work it out as a team. We work the rhythm until it's perfect and we can get it finished. So, yeah we try to adjust (the idea) to each other. Please each other. 
Where does the idea come from, usually?
Yeah, sometimes to make a rhythm section, it could be from anything with us thinking of fun. I played the beat and Robbie came. We play it again and again, until it sounds good, and we record it. Then we listen to it again until it's done.
First known each other during the time with the supergroup Black Uhuru, did Sly & Robbie have known each other prior to this time? What is the most memorable thing for Sly & Robbie through the time with Black Uhuru?
(laugh) Everything is kind of memorable, because it's always a great pleasure to be in a studio with them working on any idea. Every idea we write and we work on, we take it one step at a time, so we are thinking of the last project somewhere and let's take it right here. So every idea is memorable, like to get it and sound right you know, and to do whatever…
I remember, when we were playing "Whole World is Africa", Ansell Collins played the solo part that was supposed to be an 8 bar. But we all say "No, no, no, It's too short". Ansell then extended it. Yeah man, it's so nice. It's a 16 bar solo then. That's what I can remember when we did "Whole World is Africa" (with Black Uhuru).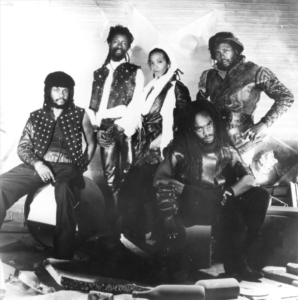 Is it the same style that you do to any artist like you do when you teamed up with Black Uhuru?
We have different styles and attitudes on how to play with other singers because we have to look out for the singers singing and perform in front of us sometimes. And then we match the singer's attitude (and style).
What is Sly & Robbie's opinion toward the regeneration in Jamaican musicians to reach a maximum level? Should there be the next Sly & Robbie?
Next Sly & Robbie? Yeah, Clevie (Steely & Clevie). They (youth)  can come up with their own idea and follow it into different directions.  Something like that could work for them (youth).
A combination of dancehall and dub is so viscous in "Red Hills Road", what makes Sly and Robbie really enjoy dancehall and dub? Can we trace back the first acquaintanceship with dancehall and dub?
Dancehall and dub is like a part of our life. When making this record, we cut some tracks with us feeling some of the vibration of the music. And then we sit down and think what kind of dancehall shape into ummh..era. Then we decided to use this instrumental, you know. 
That part of life, is that something deep down inside of your soul?
In the making? Yeah yeah, always.
'Language Barrier' LP will always be our own fav. Six punches track with a big wave of bass flowing out through the rhythm ocean you guys made. In this album you also work together with holy names in music. It sounds like no 'barrier' to us.
(Laugh) It's my favorite too! Think there's something special (about this album). We got nominated for an R&B grammy for "Bass & Trouble". Yeah we work with many musicians on this, Manu Dibango, Herbie Hancock, Afrika Bambaataa, Bernie Worrell and even Bob Dylan on harmonica.
Yeah, Dylan too. What did you actually tell him so that he would join you on this album?
It was Bill (Laswell) as the producer who came up with this idea. Maybe because we worked with him on (Dylan's) "Infidels", So yeah It's Bill who reached out to him.
Ok, 'Bass & Trouble' is our fav, and yours?
Yeah, 'Bass & Trouble' too! (laugh)
"Miles (Black Satin)" on this album makes it more like the album of the century to us. What's the thought behind this track?
(Laugh) Thank You Man! It's also Bill, he brings this idea and we answered him, "Let's Do It!" (humming the melody of 'Miles'). 
The term 'Words, sound & power' inspired lots of music outfits until now. Even we use it as our own line in this fanzine. Do you have any memories that you can share with us about your days in this outfit?
We were new musicians in Jamaica at that time, guess that we just fitted the bill to play for him. He's the one who made the world known us as a unit. A 'Sly & Robbie'. We toured with Bob Marley where there was 'Barrett Brothers'. I remember when we did "Buk-In-Hamm Palace", we started jamming in the studio. Peter Tosh just sat there, listening to us, then picked up his guitar and started singing. He didn't say anything when we recorded it, we just did, he just lived it. So yeah, he's a very good (musician), a very nice person.
Lots of pundits address you as 'The Rhythm Section Guru', one of the reasons is because you are making a long and massive music list to be written on your discography (whether you ever think about it or not). What makes it so nice to keep working as a rhythm section with plenty of important names in reggae?
What makes it so nice? Well, People. People like you who appreciated what we did on 'Language Barrier', and put it as his fav. It makes me want to listen to it now, and makes me want to go to the studio again. It's about energy. It makes me happy to make people happy.
All through these working years, producing and making music with many many musicians, can you tell us the most prolific works and most smiling makers for Sly & Robbie?
Everyone (of them). Everyone is prolific. I never did it for myself (alone), it's about doing that for other people. Always started with, "how can i please them?" So everyone is prolific.
Was that your formula to make the music?
Yeah, the formula is making them happy, how can I make people dance all the time. When I come around with the riddim track and cook it, tweak it, and make the rhythm really rocking and pumping, it will feel nice. Makes me smile. 
Out of so many names, who is the most memorable? Why?
(smiles) Everyone is memorable. Everyone (of them) is important to us. Because they are who helped us to get here today. Everyone (every artist) means a lot to us.
Do you also have a list of artists you really like to work with or maybe a new talent you would like to back up in the near future? Can you name 3 of them?
The names come so fast right now, I can't even remember them. I like people like Beyonce, Jay-Z, Chris Brown, Nicky Minaj, Cardi-B, Chronixx, Protoje. Ummh..And yeah, I can name 3 of them. I'd like to work with Beyonce, Chronixx, Cherine Anderson. And oh, let me add another one, Bitty McLean.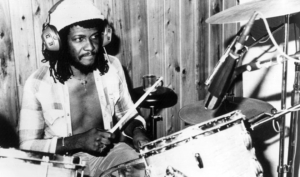 Last question we have, If Sly and Robbie are not musicians, what kind of jobs or things to do that will be the fittest ones for you?
(laugh) Well (laugh again) I don't know (laugh) maybe on the radio, I like the music because I like creating it. Music is my life! (music is like art)
Ok, all done now. Very much thank you for your precious time for us, kultur. From Indonesia, we send you massive respect and lots of love!
Yeah Man, thank you. And I wanna thank the people from Indonesia who support us, Sly & Robbie. I have never been there, but I'm looking forward to going there very soon!
(Reporter:Sam, Transcript Supervision:Yedi)