Kultur had the opportunity to conduct an online question and answer session with a Malaysian scenester. He is a big darling to other sceneters from his country. Born as Izal Herman Jamaluddin on October 5, 1978, he is better known as Joe PV. Here's a summary of the sessions we had with him.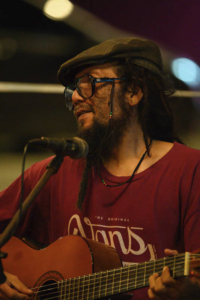 We started this session by getting information from Joe about the story surrounding the Jamaican sound scene in Malaysia. He highlighted this story passionately. He started with the 1980s scene. When a Malaysian band "The Peabees" came with thick reggae infusion repertoires. Then he continued by mentioning several other important names, such as Dr. Sam Rasputin and Sweet Charity. Joe continues to let the story flow, he told us about the film "Kembara Seniman Jalan", which comes with reggae figures, this film also features Blues Gank, Search, M Nasir, a Malaysian big act. Joe then again added about the Jamaican sound scene in Malaysia in the 90s, where he and PureVibracion were stuck together with the names such as (Toni) Poe, Aru (Republic Of Brickfield). And Gerhana Ska Cinta, Sashi The Don, Rasta Syndicate, Rosewood, Redemption, Sharp Shooter, Wakakuz, Balok People, King Lhota, Easybaba, King I, have been the driving force since 2000 until now. Joe told us all of this in a very warm spirit he shared.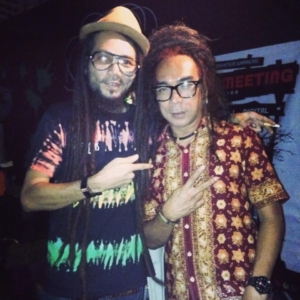 As a musician, Joe started his career with metal repertoires from the likes of SoulFly, Sepultura, Korn and even Rage Against The Machine. However, it was from these names that he got to know more about Bob Marley, which later led him to  Alborosie, Groundation and Damian Marley. Joe explained, these names became his inspiration in playing reggae. And excitedly he added:
"A.C.A.B, Aru Peruzza and Gerhana Ska Cinta are local names that have inspired my career"
Together with PureVibracion, Joe is known as a role model in the Jamaican sound scene in Malaysia. Their signature songs such as "Mi Gal" and "Pesan Nenek" managed to change the dynamics of the Jamaican sound scene in Malaysia. These two straightforward tracks, become the public's attention. This light music formula with a smooth groove has succeeded to bring reggae to a wider audience in Malaysia. They made the audiences able to enjoy the core message of reggae about tolerance, as well as calls for unity & equality smoothly.
With his close friends. Seir and Suden, Joe started PureVibracion around 2004. PureVibracion has done many gigs such as Skank Fest at Fort Canning – Singapore. They even visited Indonesia. Despite changing the line-up, PureVibracion is still adding up their discography list. Starting with the debut LP "Love and Peace" (2009), to the single "Irie Man" (2018) and the single "Jauh" in 2020.
He is indeed the one who brings the raw music ideas to PureVibracion. But this is always finalised by PureVibracion's collective sharing of ideas. "Freedom of expression in music" as he argued. Kultur also asked, is this a manifestation of equality from the message of PureVibracion's music? A walk the talk attitude? Wisely and wittily, he quoted a Malay proverb to answer us:
"I'm actually shy, I can't answer this. I can't blow my own trumpet" Joe laughed out loud.
Joe's musical journey was also can be seen through a single and solo album "Manisnya Dunia" and "Keep On Movin" in 2013 and 2014 respectively with Laguna Music Sdn Bhd. It is still related to reggae, but Joe added that this step is a form of his exploration in music, "Yes, I am open to receiving various (influences) music". Answering a favorite theme for his lyrics, he explains:
"Love, Peace, Justice and other things from my point of view, (like) a truth that many people agree on but are reluctant to share. I am happy to provide options (to listeners) through my work."
Currently, he resides in Langkawi, and remains involved in many Jamaican sound acts. Lately, he has been seen actively collaborating to share the energy in many gigs with local sound system units. In this regard, Joe stated that collaboration is an interesting thing. If he has the opportunity, he wants to add to the list of collaborations, with international soloists such as Damian Marley and Ras Muhamad from the Southeast Asia region.
Talking about the Southeast Asia region, Joe shared his story with great enthusiasm. To Kultur, he answered about what his dreams are in the near future for the Southeast Asian Jamaican sound scene.
"Besides the Festival, I think about a cross-genre musical collaboration from sceneters across Southeast Asia."
A simple idea of ​​this togetherness may have come from Joe's passion for networking. He is so down to earth, he is known to be friendly and warm to many scenesters in Southeast Asia. Something we should note in this article. That's Joe PV, he has "Propaganda" through "Good Love", he amplifies "Pesan Nenek" with lots of "Reggae Party". "Thank You Selalu" he said and shared so that all of us "Keep On Movin"
(sam)