Our guest this time is a versatile musician from an outfit from Johar Baru – Central Jakarta. He is known as one of the scenesters who is busy with various music acts that he lives and works on. Through a video call we interviewed him. Here are the results of our summary with him.
Starting our conversation, he related his introduction to Jamaican music. According to him, this was an "accident". At that time, Jenggo, who is close to punk music, accidentally found the 'Ska Authentics' record from The Skatalites through a music collection album from one of his friends. From here, it seems like he gets artistic energy which later becomes his career.
He formed a music outfit that is now known as a Jamaican music unit with a massive fanbase from Jakarta; Monkey Boots. At that time, together with Ewok, Sake and Alay Error, Jenggo gave birth to Monkey Boots. (Apart from Alay, Ewok & Sake is now still a member of this band).
Jenggo further explored ska. He started learning to play the trumpet. Although later he had more time with his harmonica and the repertoire from the likes of The Specials at that time. Jenggo recalls, at that time he got a reference after reading George Marshall's' 'Spirit Of '69'.
"I started looking for references, until finally I found a page that wrote about Judge Dread and The Last Skinhead."
Jenggo's first work with Monkey Boots was the song 'Jakarta' (circa 2004-2005). He was the singer of this song. This song was distributed freely via social networks at the time. What turned out, got an extraordinary response, then, the rest is history.
For Jenggo, Monkey Boots is his personal art space. He pours all his passion into this music unit, a unit which he calls the manifestation of artistic attitude. 
"However, I will run Monkey Boots. For me, (Monkey Boots) is a story that I will share in the future". 
He left Jakarta from 2006 to 2009. This made him not around with Monkey Boots for a while. But he returned to join and released "Big Monkey" (2010) debut, on this album he played trumpet. The vocalist of monkey boots at that time was Denny Frust, the Indonesian Prince Of Ska. On their sophomore album "Interaksi" (2015) Jenggo played keyboard for the band. Later in 2016 Jenggo returned as the frontman for the band.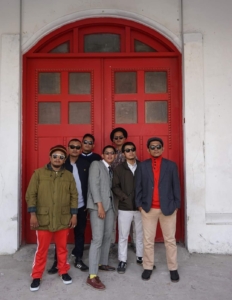 As a frontman who also wrote the song and lyrics for Monkey Boots, Jenggo explained that he has to keep on writing. It's his primary task. He said that he produced many works from the spontaneity of the ideas he collected, before it became a complete song.
Jenggo, as one of the scenesters from the capital city, is known as a multi-instrumentalist. This is not only traceable on Monkey Boots' works. To Kultur, Jenggo divulged that for the song 'Berdetak' by Monkey Boots, he created the idea from an ukulele. In this song, Jenggo also plays the melodica alto. He also plays the mandolin for a powerful Oi! outfit from East Jakarta, Tenholes.
The manifestation of energy from Jenggo's work continues to flow,he is now a Singjay from one of Indonesia's enchanting dub acts, Aset Negara. He shares his vibrations with Boris, one of the important figures in the Jamaican Sound scene in Indonesia. This dub act has released two singles since 2020. They recently debuted their "Illegal Sound" EP.
Getting acquainted with dub music was also kind of an 'accident' to Jenggo. It was started through the full aural hallucination experience album by King Tubby; "The Legendary Skatalites in Dub" from one of his best friends. He then immediately loved dub. From here, he later found new influences in singing. Apart from John Holt, Barry Biggs and Sharon Forester, Jenggo added that he also likes Joshua Water Rudge (from The Skints), Macka B and Bigyouth's singing style on the song "Sky Juice".
Together with Aset Negara, Jenggo agreed that the manifestation of his art sounded more mature.
"Actually, Monkey Boots' works are also matured as well day by day. However, exploration in Aset Negara is freer, limitless, everything can flow freely"
This freedom of expression is what Jenggo considers to run the dub act "Asset Negara". As a means for him to express the results of his writing practice that he often does. This he conveyed to Boris & Bedul when he agreed to join the band.
Laughing, he told us, "I do ask for freedom to write whatever I want to write (with Aset Negara). Although in the end, technically Boris often provides input in singing."
With the Aset Negara, he had such a powerful expression. Jenggo is one of the frontmen of the Jamaican music unit from Indonesia who is very fluent in Jamaican creole; Patois/Patwa. He wisely explained that this step was simply a production approach. He admitted that he did not specifically write a philosophical message in it. 
"Just acquiring, (it came) from the subconsciousness (he has) to write (song/lyrics), if it turns out brings a message, then it was that kind of message" he explained to kultur.
For kultur, Jenggo has indeed become an interesting figure in the Jamaican sound scene in Indonesia. Besides being a multi-instrumentalist, he is a figure who has a quite exceptional production approach. The falsetto infusion that he does in many of his works is one of the sweetest examples of the vast range of references he has – considering that not so many jamaican sound outfits in the country have done this.
He is also able to bring the social phenomena around him into the song wittily. For example, he just doesn't bother when TikTok provide the what-to-watch-ideas suggestively for many adults. He only emphasized that, for the children, TikTok will be the one who reduced the critical souls quantity in future. Then he satirically recounts the brawl between villages in Jakarta which sometimes becomes a spectacle, it's instead, just like an entertainment for children around the area. He wrote the two portraits on the songs 'Inna Ghetto'  and 'Outta Stock' with Aset Negara.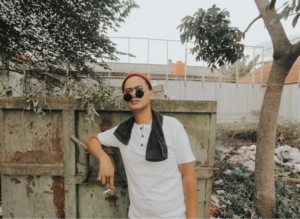 Even though there are many 'accidents' that lead him here now with his art, Jenggo is so sincere and lives his passion to the fullest. Maybe this is one of the reasons why 'Big Monkeys' (the name for Monkey Boots fans) is so massive. In response to this, he explained that Big Monkeys meant a lot to him. 
"Appreciation is the highest gift an artist can have, Big Monkeys (a call for Monkey Boots' fan) are what all that means to me"
The harmony and the melody, as well as the vernacular in his style, are examples of an adult work that wrapped in Jenggo's passion. With all these things, he has delivered a special point in the realm of Jamaican music in the country. He also contributed to the excellent musical touch among the other beautiful works from other fellow musicians that already exist in Indonesia. This modest value from Johar Baru, becomes the basis argument that it is difficult for kultur not to put an opinion that; Jenggo is one of the champion sounds from the Jamaican music scene in the country!
(sam)