Started as Rasvan Aoki. This Surabayan music outfit has released their debut entitled "Tyaga" in 2018. They have gone on a tour in the Southeast Asia region to support this debut. They even became one of the lineups in one of prestigious music events in the country, Java Jazz.
Many Jamaican sound music units in Indonesia deliver the compositions from the criss cross between the one-drop reggae formula and other musical elements. Like upstroke guitars and the dominance of a solid bass motoring scale, they intersect with variables from RnB, Jazz and blues & soul. Including our protagonist in this edition. Their work is quite special, reminiscent of the breadth of cultural appropriation of Lover's rock from England.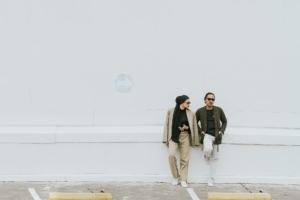 From Rasvan Aoki, they transformed into Rasvan Kikoo (from 2020). Taken from the name Rasvan and Kikoo the frontwoman. This is a new step for them, after Aoki, the previous vocalist, resigned.
This quite crucial transformation did not lessen the freshness of their works. They have released a single "Can We Talk?", the maturity of the musical process of this duet is embodied in this composition. The lyrics are so personal,soulfully sung. The dominance of delta chord progressions and wise reverb-laden wrapping a massive delayed chuck/skank guitar. This brings an interesting ambience. They also invited Alfred The Alien to add another energy to this song.
Get the latest news and all info about this duo via their social media here:
Instagram || Facebook || Youtube