We'd like to recommend a dub act from Poland for this edition. A dub act that was founded by Muflon Man, a Polish dub producer. He runs this act as Muflon Dub Soundsystem.
His musical journey began when he first got to know reggae and was directly influenced by the vibration of good messages in reggae. Something that prompted him to write songs, as well as brought him to know reggae and other Jamaican music nexus. He briefly joined the Polish music unit The Massive Sound (formerly known as The Rebels, which has been active since the 1980s). With this music unit, he writes songs while studying Reggae and Dub more deeply.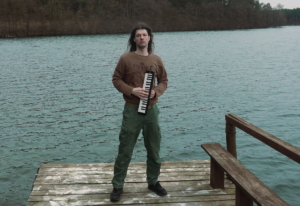 He was inspired by many things in writing his songs, from the world around – beauty of nature, and love inside the hearts of the people. He also wrote about the atrocities of the so-called Babylonian system, which in his interpretation was "spiritual evil in high and low places". The Bible plays an important role in understanding his point of view and the music he wrote. He also gets a lot of inspiration from Dub music such as Dub Syndicate, The Congos, Yabby You, and others. All these sources of inspiration prompted Muflon Dub Soundsystem to spread the message of Love, Unity, Peace, Understanding and, above all, the presence of JAH who is Love itself.
His discography was started by his debut "Massive Sound To Mash Down Jericho Walls" (2005). And several singles and EPs up to 2011. His work during that time, is the result of collaboration with many musicians, the fascinating collective spirit that draws from Muflon Man.
After a hiatus, Muflon Dub Soundsystem is back with the 2020 album Krol Milosc (King Love). It contains a familiar repertoire for the fans, because they have often performed it at his live gigs, it also contains couples edited songs and several new songs.

In 2021, the new chapter of Muflon Dub Soundsystem is marked by an international partnership with one of Cyprus' independent Dub record labels, Dubophonic Records. Through this musical imprint, the album "In Love With Righteousness" was released. A marker for his works that he achieved. This year he also collaborated with Melana, a charismatic songstress from Poland. They released "Steppin' To The Highest Region" through Dubophonic Records.

Muflon Dub Soundsystem is preparing an album to be released on March 23 2022 by Dubophonic Records. Get ready to embrace another "power" from this Polish dub act. Get also the latest updates through his social media channels here:
WEB || YouTube || Instagram
(Sam)