Terence Edward Hall, or better known as Terry Hall is one musician who has a special place in the pantheon of influential and respected musicians.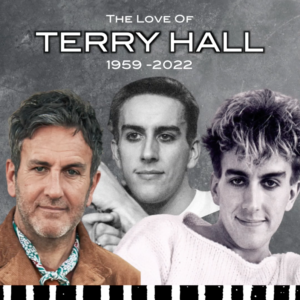 He is one of the important variables of the energetic and exhilarating movement, 2 Tone, a youth subculture that brings social and political awareness through ska music. With The Specials, he voiced equality, anti-racism and a spirit to fight injustice.
As a singer, his genius comes from his deadpan and charismatic singing style. This unique power he has is something that is able to convey a wide range of emotions and messages with the intensity and capability to convince and influence many listeners. No doubt, wittily, Terry's power is able to raise awareness through the set of humorous and emotional messages in many of his lyrics.
Terry Hall's authoritative influence on music isn't just spread in the realm of ska. Massive Attack, a trip hop pioneer from England, stated that Terry and The Specials were the soundtrack of their youth, as well as the basic foundation for Massive Attack.
And Terry, not only shares his special works in the ska repertoire. He was involved in many powerful collaborations with many world musicians. In memory of the genius we have selected several tracks by Terry Hall beyond his genius with The Specials.
(Sam)
1
Leila Arab & Terry Hall - Time To Blow
Leila Arab is a Pahlavi-Iranian born British musician. She is also known as a DJ, sound engineer and live mixer. Her musical career started when she was a backing musician and sound engineer for Björk.
Since the 1990s until now, Leila has released 4 electronic influenced albums. She was noted as one of the golden generations of British musicians and producers in the 90s.
She invited Terry Hall to lend his unique voice for the song "Time To Blow" from the album Blood Looms and Blooms (2008).
2
Tricky, Terry Hall and Martina Topley Bird - Poems
Tricky is the moniker of Adrian Nicholas Matthews Thaws, a Bristol - England musician, producer and vocalist. He is one of the early members of Massive Attack.
He is also known as one of the pioneers of trip hop, besides having a musical style that combines various cultural influences and genres in each of his works. He collaborated with various musicians, from Grace Jones, Gravediggaz, Björk, Red Hot Chilli Peppers, PJ Harvey to Alanis Morrissette.
In 1996, he released the album Nearly God. Albums that include multiple collaborators. One of them is Terry Hall who lends his charming deadpan singing style to the emotional song, "Poems."
3
Sinead O'Connor & Terry Hall - All Kinds of Everything
This famous Irish international-class singer has received several grammys, also known for her political stance. In addition to her popularity as one of the world's pop stars, she is also known as an artist with close ties to the Jamaican sound. One of her albums, Throw Down Your Arms (2005) was her works with Tuff Gong (a brand owned by the Marley family) and produced directly in Kingston - Jamaica. Also supported by legendary musicians such as Lee ``Scratch" Perry, Sly & Robbie, Uziah Thompson and Dean Fraser.
In the same year, she released a compilation containing collaboration songs entitled "Collaborations." On this album, she asked Terry Hall to sing with her the Irish pop song, "All Kinds of Everything."
Vegas is a project by duo Dave Stewart (Eurythmics) and Terry Hall. They only released a self-titled debut containing 10 tracks and released 6 singles on 3 B-Sides.
After the failure in selling this album, Terry then released his solo debut Home in 1994.
5
Terry Hall & Mushtaq - Ten Eleven
"Terry Hall and Mushtaq" is a musical project by Terry Hall with one of the pioneers of music from England, Mushtaq. An influential musician who is a member of the hip-hop–ethno-techno–world fusion group, Fun-Da-Mental.
The duet released an album called The Hour of Two Lights. This album was released by a label that took-over by another British genius musician, Damon Albarn. In addition, this album was also distributed in America by a prestigious label that focuses on electronic music, Astralwerks. This musical imprint released work from artists such as The Future Sound of London, Fatboy Slim and The Chemical Brothers.
Although the album The Hour of Two Lights from "Terry Hall and Mushtaq" is only a one-off work, it received a lot of good reception from music critics. On the track "Ten Eleven" Terry and Mushtaq brought rapper Oujdi and one of Terry's musical partners, Damon Albarn.
6
Terry Hall - Ballad of a Landlord
Terry Hall's sophomore solo album was "Laugh". This album was released in 1997, where he worked with musicians such as Sean O'Hagan (from The High Llamas and Stereolab), Craig Gannon (The Smiths) as well as Damon Albarn.
Several No Doubt band members were featured in the music video for the song "Ballad of a Landlord", apparently a form of returned the favour act for Terry's appearance in No Doubt's "Sunday Morning" music video.