The bassline signifier of reggae soul. The bridge connects many important reggae figures in Indonesia.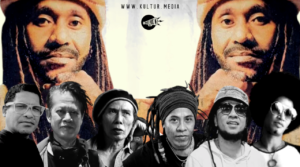 Rastafara is a primary and crucial name to most of Jamaican music musicians and lovers in Indonesia. This homophone word to Rastafari is synonymous to and a signifier of reggae music in Indonesia. Rastafara is also very identical with Tony Q, the frontman of the band. His militancy in bringing reggae to become an influential variable in the national mainstream music industry is incredible.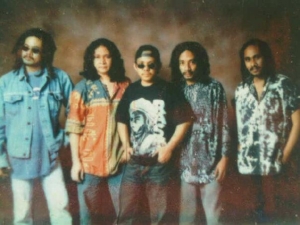 Besides Tony Q, there is another figure who is also important to be written down in the history of reggae music in Indonesia. He is Roy Putuhena, a compatriot of Tony Q in Rastafara and a bass player who would always keep the solid rhythm section in this music outfit. 
A signature and character's signifier in every reggae song is the bassline, an absolute and crucial element in reggae. We can sense the presence of Roy whenever we listen to the first album by Rastafara, "Rambut gimbal." He has flown away home to Zion 10 years ago but his trails must be imprinted and remembered.  
Kultur sums up a brief story of Pace Rasta. James Ronald Putuhena was born in Sorong, Papua on August 21st, 1963. He is the second son of eight siblings. His love and passion for music is ingrained since he came from a musician family. His father, Adam Putuhena was an ex-member of Black Brothers, a legendary band from Papua in the 1970s before they went to Jakarta, said Dedi Putuhena, his brother who is also a Jazz musician.
Being motivated by the success of Black Brothers and Black Sweet, Roy and Dedy alongside some friends decided to go to Jakarta in 1982. They were all so determined that they left without asking for permission from their parents and family. Departed from Jayapura harbour, they became stowaways on a cargo ship which they thought would sail to Jakarta. As a consequence they had to work as a cleaning service on board. Arriving at Surabaya and without any penny they had to walk for over 60 kilometres to reach Mojokerto, a city in East Java. Here they took shelter in a social lodging house and got social assistance. They had their tickets to Yogyakarta and stayed there for some time before heading to Jakarta.
In Jakarta they boarded temporarily at Black Sweet's base camp before striving for their luck by busking on the street and clubs around Blok M Plaza. Jalan Falatehan is the rendezvous and melting pot for street musicians.
It is the place where Roy would get his first exposure to reggae and mingle with its musicians including Tony Q.
To Kultur Tony shared his story of how the two first met in 1992. At that time Tony was looking for new personnel since his old band had disbanded. He then asked Roy to join him playing reggae. Roy agreed and left his band which at that moment still played a regular show in Oscar club with Edo Kondologit, Tony added.   
After that, Roy made a conversion. "Previously he was known as a Jazz musician with a qualified musicality and knowledge. He had a diverse reference like GRP (Grusin-Rosen Production) all stars which then made him really admired Lee Ritenour. He also began to have locks and learnt more often of reggae repertoire for live stage performance," said Dedy further.
A band 'Rastaman' was formed after Roy joined. There were already Felix Siahaan (drummer) and Tobing (keyboardist) from the previous band. Unfortunately, 'Rastaman' only survived for two years. In 1994 they changed the name to 'Rastafara' with new player Yus Panigoro on keyboard to replace Tobing who decided to quit. It was Roy who invited Yus to join this new band. With this formation they moved toward originality by doing their own songs which gave birth to the legendary debut album entitled "Rambut Gimbal " in 1996, said Tony.
The album is an Indonesian version of "Catch a Fire," a work which successfully ordained Rastafara as a cornerstone to Jamaican music in Indonesia and placed it plainly on the map of Indonesia popular music. The song 'Rambut gimbal' even elegantly creates a referral identity that becomes a character and authenticity of Indonesian reggae. A clever appropriation which is not just imitating.   
Unfortunately, due to a difference in vision, Roy's corporation with Rastafara had to end. The band also officially disbanded in 2000. Despite the fact that they no longer work together, their friendship continues.
"We are still friends after all. If we are ill-suited at work, that's not a big deal. We still have to get along as friends. That's the most important thing to me," said Tony who confessed to be sad and moved when sharing these nostalgic stories.   
Further in Dedi's testimony, after parting with Rastafara Roy had to rebuild his career from scratch. He formed new bands, Jamming and Taff Gong. He was helped by some Asian Roots players like Darsa (drummer) and Hansel (guitar). He then searched for additional personnel, especially the lead singer. His effort would lead him to encounter some figures that later on become important figures in Indonesia reggae music scene. Among others are Masanies Saichu, Joesai Sasak, Iwanouz (ex-keyboardist of Steven & The Coconuttreez), Emilio (Gangstarasta), and Conrad Good Vibration. Roy was like a talent scout. He had a sincere nature to encourage and support whoever had potential in them. Joyfully he would share the stage with them to give an opportunity as a motivation to express themselves, said Frans Rumbino, one of his friends.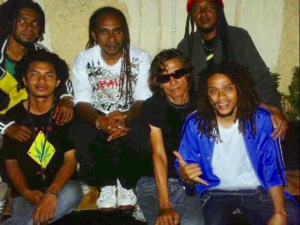 Joesai Sasak confirmed the same thing in the previous interview session with Kultur when he shared the story of how he first met Roy when Taff Gong did a performance in Bali. Roy invited him to go to Jakarta and replaced Masanies Saichu, Taff Gong's vocalist who decided to quit the band. Joe then went to Jakarta in 2002. Together with Taff Gong they released a soulful dancehall and dub single "It wasn't me" in a compilation album 'Indonesia Reggae Revolution #1 in 2005 initiated by Steven Kaligis.   
Apart from Joe, there is also Iwanouz, a keyboardist. To Kultur he told the story of their first encounter. He was playing band with Roy when he was invited as the guest star in the 100-year anniversary celebration of Merauke in 2002. Amazed by Iwanouz' ability, Roy then invited him to Jakarta to join with Taff Gong. Iwanouz who was just graduated from high school also have the same ambition immediately agreed. He really appreciates Roy's role in his musical career.
"Roy is a musician who dedicated much of his life for reggae in Indonesia," said Iwanouz in his testimony.     
Taff Gong changed over vocalist for several times. After Masanies and Joe left, Conrad Good Vibration came in, he is a young talented reggae soul from Flores, NTT. He joined in 2007 to continue the recording project entitled 'Pace Rasta' which has been postponed before. However, he took over the position only for the time being. After he went back to his former band, Matahari and Conrad Good Vibration, Taff Gong changed its name to Pace Rasta with two other vocalists: Budi (ex-Gangstarasta and Marlon from Black Face band.
Roy's rhythm section as bass player also imprinted in various recordings like in Masanies Saichu "Gombale bolong," Gangstarasta "Unity," Conrad Good Vibration "Tribute to the Land" and De Jongkers.
Roy's death in 2011 ended his musical journey with Taff Gong and Pace Rasta. Despite his presence in flesh, his spirit lives on through the vibration of reggae bassline. His spirit and contribution to Indonesian reggae is absolute and vital.
For his one love comes endless respect from us, the Pace Rasta, Roy "the bassline" Putuhena.
(Text:Yedi Editor:sam)