Started from the ice cream shop, restaurant and record shop on "Orange Street" one of the historical areas in Kingston-Jamaica. Beverley's record was born and had its big role in the development of music and industry in Jamaica. Jimmy Cliff, one of the legends from this musical imprint, quoted that the person behind Beverley's record is a figure who knows with a very good sense what would connect with the people, a man with ideas, he also knows how the rhythm should go, a man who gave big impact to many biggest name in Jamaican music scene. The man behind Beverley's record, Leslie Kong.
Jamaican music scene in the early 1960s was marked by the luxury of a massive sound system culture. The prominent names at that time were Coxson Dodd, Duke Reid, Prince Buster and King Edwards. These glorious days started from Kingston, a hypocenter that gave birth to the genius works delivered by many Jamaican musicians to the world.
Apart from the names of the pioneers above, there is one figure who plays a big role in Jamaican music industry, a young man named Leslie. He was born in Jamaica in 1939, to the Kong family of cantonese origin. Leslie attended school at the University of St. George's, Kingston – Jamaica. Leslie Kong's career began when a young man visited his restaurant, ice cream shop and record shop that was run by his two siblings. This young man suggested that "Beverley's" (the name of the Kong brothers' business) should be expanded into the recording business.
The young man who proposed the idea to Leslie was James Chamber, better known as Jimmy Cliff. His call for Leslie took the form of a song that of course was so bewitching. Despite having no formal experience as a music producer, Leslie eventually released this song onto a record entitled "Dearest Beverley" through his musical imprint, 'Beverley's records.' History started since then.
Leslie seemed to have very distinctive business instincts. He immediately established his own musical imprint; 'Beverley's Records.' He recruited one of Jamaican music legends, Derrick Morgan, 'The King Of Ska.' Derrick's role was a talent scout. Leslie also appointed Jimmy to be responsible for Beverley's artist and repertoire division. They occasionally went to a bar in West of Kingston to find talented singers in their quest to recruit fresh talents. They acted as representatives for Leslie Kong and Beverley's records.
Leslie's musical imprint itself is like the milestones. Apart from being one of the crucial variables for Jimmy''s career, his self-titled debut was released and produced by Leslie.
Beverley's records also became one of important stories of many Jamaican musicians through their careers. Talent after talent became part of the long catalogue produced and released by Beverley's records. Most of them have become world's legends.
One of Beverley's notable releases is Derrick Morgan's 'Forward March', a song celebrating Jamaican independence from Great Britain. Beverley's records also published the works of Desmond Dekker; a highly praised figure from world's ska scene. Desmond's journey into ska was so influential, even Paul McCartney was so inspired by Desmond and ska, it even triggered him to wrote "Ob la di, ob-la-da" with The Beatles. Through Beverley's records, Leslie published Desmond's works including '007 (Shanty Town)' and 'Israelites.' The fantastic records, selling up to two million copies!
The Maytals (Frederick "Toots" Hibbert's band) through their historic song called '54-46 (That's My Number),' 'Pressure Drop' as well as a world class ska anthem 'Monkey Man' are also part of the list from Beverley's records.
Leslie as the producer for Beverley's records also released one of The Melodians' timeless "spiritual" songs. An adaptation from the manuscript of Psalm 19, 'Rivers Of Babylon.' Leslie's sharpness vision is also noted in the work of the reggae trio; The Pioneers. Leslie was able to stimulate the creative ideas of the musicians around him. The Pioneers released one of their masterpieces 'Long Shot (kick de bucket)' which was inspired by Leslie's idea to write about the death of a racehorse.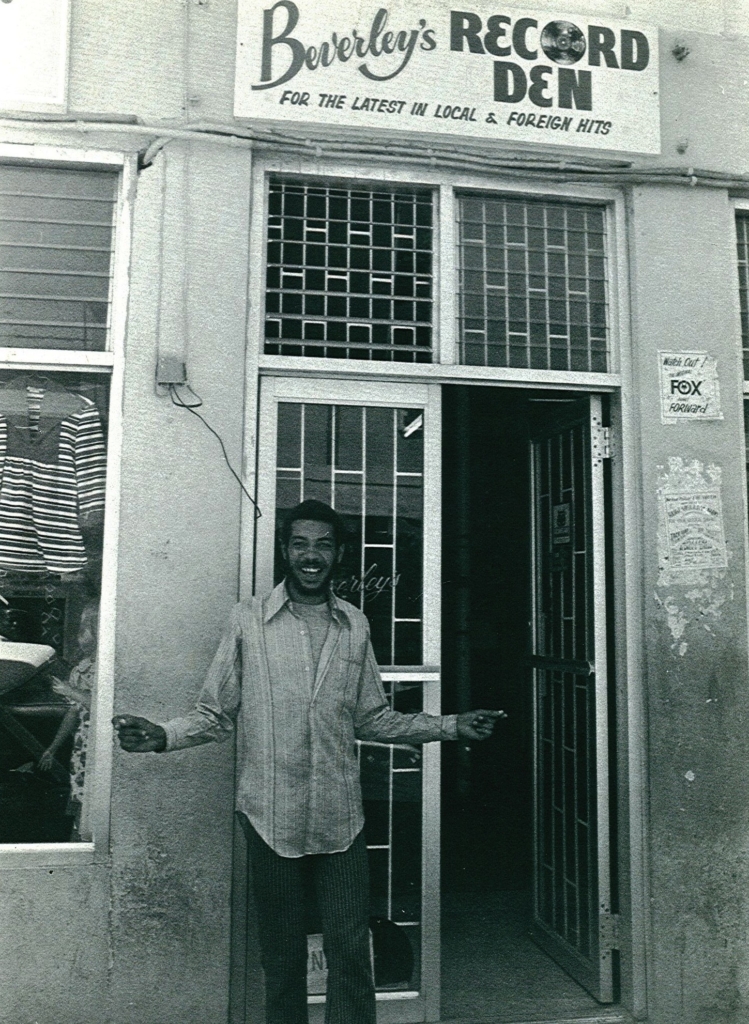 The talents in the Beverley's records catalog continues to grow, from Ken Boothe, Bruce Ruffin, Roland Alphonso, The Gaylads, Delroy Wilson, Lloyd Clarke, Eric "Monty" Morris, Jackie Edwards, Jackie Opel, Don Drummond, Millie Small, The Clarendonians, Lynn Taitt & The Jets, Freddie McKay, The Mellotones, Baba Brooks, Glen Adams, The Slickers to Ansel Collins.
In addition to the names from the catalog above, there is a young figure who later went global through his work, even making the face of reggae music become so colorful. The story of this young man with Beverley's records is historical. It started when Derrick Morgan met a young man who said to him; "I would love to make music." Derrick then suggested this young man to have an audition with him at Beverley's headquarter. However, until several months later this young man did not attend. Jimmy Cliff reunited with this young man and immediately escorted him to Leslie Kong to listen to his work and the ability to sing.
At that time, this young man was 16 years old. Jimmy Cliff himself brought this young man, then he wowed Leslie who immediately invited him to record at Federal Records studio. 'One Cup Of Coffee' and 'Judge Not' were songs that were later released by Beverley's record with Leslie acting as producer with the help from Jimmy Cliff. On the song 'One Cup Of Coffee' this young man used the name Bobby Martell, previously on the song 'Judge Not' the young man was written as Robert Marley. The young man who was later known as Bob Marley.
The collaboration between Leslie and Bob had stopped, indicated by Bob's passionate enthusiasm colliding with Leslie's insight as a businessman. Leslie, who at that time considered that Bob's figure had not so much to meet a "liberated" character that intersected with the ska scene in Kingston at that time.
Leslie and Beverley's record continue to roll out their brilliant methods releases in their catalog. One side of Leslie Kong can be seen when he appeared as a cameo in "The Harder They Come" movie as a sound engineer. This film features Jimmy Cliff as the main actor, which also features one of Jamaican music legends; Prince Buster. Unfortunately, Leslie did not get to see the film's premiere when it was released in 1972.
Leslie Kong died in 1971 at the age of 38 from a heart attack. He has two children who now live in Canada. They do not follow their father's path and are not related to the entertainment and music industry. The only Kong's clan who is directly involved in the music industry is Leslie's nephew, I Kong and his son Skunga Kong who owns a musical imprint, Skunga Records.
Skunga Kong told Kultur, "I heard directly from one of the chairman at Byron Lee's Dynamics Sounds Studio, that Leslie does not regularly use studio shifts, even though he has been hiring this studio for a period of one year." That piece of story seems like it convinced us that Leslie Kong is a man who prepared very well about everything for the production needs of the artists under his Beverley's imprint.
Leslie Kong's expertise as a music producer and a businessman can be found in lots of historical works yet beautiful careers of the artist from his own imprint. Leslie did not spend a very long time of his life in the music industry. But the touch of this young Asian man in the music business had helped the Jamaican music Industry grow, even on a global scale.
Leslie was one of the special figures, With his own Beverley's, Leslie left us his big legacy! 
(author:keyko, editor & translation: sam, translation supervision:yedi)