Our guest for this interview is one of the Jamaican sound sceneters from Indonesia. He is known as a figure who was actively involved in Jamaican music in his hometown, Cirebon. For almost a decade he has consistently spread his passion with music. This is our summary of the interview session by telephone with him in early July.
From a city in West Java, this man named Guntur Ophay Sukarno become a part of the Jamaican music scene in the country. In early 2000 he started his musical journey. Together with one of his cousins, he gave birth to "Another Project", a music unit that combines the infusion of local wisdom from the Cirebon coast with Jamaican musical patterns.
In 2010, Another Project released their "self-titled" debut (mini album). At that time, Jamaican music in the city of Cirebon was getting bigger. Much different when the band started their journey in 2005. Ophay remembers, at their first gigs, everyone was still wondering, not yet aware about reggae music. In fact, this continued for the next few years.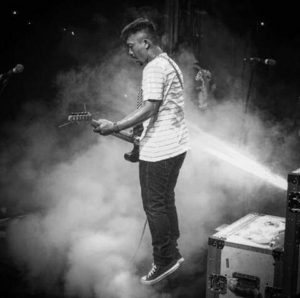 Regarding the repertoire of Another Project, he said that basically, they were influenced by the heroes from Trojan Records, Studio 1 and Bob Marley. He added, the spirit of punk, rock and pop elements, also became their inspiration. And of course, what is very interesting, He & Another Project put an infusion from a native character from the traditional music of the city of Cirebon (to their music). An infusion that comes from the "Tarling" (guitar and flute duet tradition). For this, He explains:
"The Tarling pattern, which is an authentic artistic character from the city of Cirebon, is something that each of us has been acquiring since we were little. Our experiment to give an original infusion (besides the pattern of Jamaican music) naturally came out of nowhere for Another Project."
Apart from being with Another Project, Ophay is also known as one of the most charming dub acts in Indonesia. Through the Baxlaxboy moniker, he is one of the headliners who always come with a hectic party guarantee.
Baxlaxboy stems from his love of Jamaican music nexus. While attending school in Bandung, he was connected and hung out with Bandung's own homies. The likes of Dave Syauta and Daniel FX (The Paps) were allies in the beginning of his musical journey. From these connections, he learnt many dub repertoires, vinyl was one of an exploration source for him as Baxlaxboy. He told the beginning of his introduction to the dub in the city of Bandung:
"King Tubby delivered dub a sense of wonder to me. Then came Mad Professor. They then make me more intense to explore digital audio workstations after getting lots of samples & loops from Mad Professor's blog"
Baxlaxboy released the mini album "Burn It, Feel It, and Free your Mind" in 2019. An original repertoire set from him that brings its own color to the list of Indonesian dub releases. His implicit lyrics, hypnotic melody and beat, this debut is indeed a killer set from him to set the dance floor on fire. In many of his gigs.
For many Jamaican music aficionados, dub, in the country, Baxlaxboy is so warmly welcomed. In the set of his performances, he seems to have an efficacious magic spell to make the crowd dance. The seductive grooves with pumping rhythms, and simple melody repetitions make Baxlaxboy's performance set like a powerful mirror neuron who gives you no choice but to dance. Humbly, he admits that the formula from Baxlaxboy he created just flows naturally.
"When (the tour) went to Lampung, so many people sing-along and danced with me. I do not expect it. Never thought of making (formula) like that. I am just writing what comes out of my musical imagination."
In compiling his repertoire for many actions at various gigs. He's indeed a witty dub act. He sometimes played Jamaican music anthemic songs in Indonesia. Of course, he managed to create a massive sing-along moment through his setlist. For example, songs from Bob Marley, one of his greatest inspirations, are often played. He even made the atmosphere even more sweaty through the rendition of "Love Buzz" by Shocking blue.
Baxlaxboy can be noted as one of the dub acts from Indonesia who has a high enthusiasm for spreading dubs. In the near future, he will bring a new release that he is currently preparing. He also often goes on self-organized tours with an intimate vibe to enjoy dubs. In the past year, with many limitations due to social restrictions, he kept on playing dubs in many cities. And all of his gigs get massive appreciation from the dub music lovers of the country.
He explained that going through all of this was driven by his musical passion. Dub has not become familiar music to the public yet. He concluded that it will give a greater penetration if many dub actors in the country were involved to introduce dub. He shared his point of view:
"Ideally, Yella Sky Sound System, Radit Echoman, Anjing Dub, Dubyouth (and others) together play the dub for the crowd. However (due to current limitations) traveling alone is just as good, creating the connections first, networking."
His passion is indeed very solid, strong and yet, down to earth. He is one of the scenesters from the dub scene in the country who consistently spread his works. From the city of Cirebon, he set fire to dance floors in Sumatra, making West Java enjoy it, as well as many dance floors in Central Java to East Java. With the spirit of "Life Is Free" Baxlaxboy slowly led Jamaican music lovers to reach the "Titik Ketinggian" in Jamaican chanting a la Pantura sound!
"In Cirebon, there is a culture called "Melekan", it's a tradition, a gathering to enjoy the music . A folk spirit that has equal values ​​in reggae and all kinds of Jamaican sounds. I once tried to take over the playlist at a "Melekan" event. Changed their set by playing Bob Marley. And, everyone is happy, the solemnity didn't ruin. This is a Cirebon's culture"
Our protagonist explained what the meaning behind "Pantura Sound" was. Yes, as Baxlaxboy, he brings "Pantura Sound" as a form of cultural appropriation between Jamaican Sound and local wisdom. Something he lived with joy, and fun. For us, this is a strong and persistent spirit! We believe he will continue to keep his fire on, if not, well, Light up some more. Buuurn!
(Text:Sam,Reporter:Keyko)