In this special edition of Kultur, we have the great honor of being able to connect with one of the living legends of Jamaican music. Ones with his classy gymnastic words and lyrics. Through a video call, we were able to directly interview him, who is currently staying in one of the Scandinavian countries and has just released a book entitled "My Corona Year In Sweden 2020".
Starting his musical career in the mid-1970s, born as Ripton Joseph Hylton, He grew up in Trenchtown, Kingston – Jamaica. He has his own vocal that later become his trademark and signature, the one and only, that we all know as Eek-A-Mouse!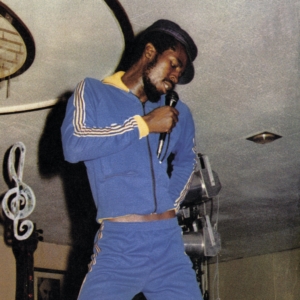 Singjay (singing and deejay) is one of the core elements and a signifier in the aesthetics of dancehall music that was present in the 1980s. Typical dancehall songs always feature 'deejay singing' or 'voicing' over 'riddim.' This phenomenon is a common practice in dancehall music. As one of the pioneers of singjay who has a unique signature to Kultur, Eek-A-Mouse tells the story of how he found his distinctive "bang ding ding" style. With a laugh he replied:
"Well, just mine, an Eek-a-mouse style you know! so that's it bang ding ding"
He further explained that he did not have a special role model and also did not have a favorite Singjay. He confidently and laughingly stated that the other singers actually imitated or followed his style.
"They are good because they imitate my style of singing, they imitate Eek-A-Mouse, you know what I'm saying?"
Eek-A-Mouse then adds that he doesn't have a specific secret or whatsoever for his style, that everything happens naturally. He even joked with laughter that his unique style was because he was an alien. But then with a serious tone he explained that the term or label of a singjay was first obtained from Roger Steffens, a reggae music archiver who also has a special radio broadcast program for this music. Basically Singjay's singing style is "bang ding ding" to fill the gaps between the lyrics. A singjay is often required to be able to do 'freestyle.' And when Eek-A-Mouse does that and gets stuck and can't find the lyrics he doesn't want to stop and then fills it with his signature "bang ding ding" style.
"Well, things just happen naturally, you know what I'm saying?… like when you're trying to think of a lyric and you can't find the lyric then just go [singing] "bang ding ding…that's how it is"
In the early days of his musical journey, Henry "Junjo" Lawes was one of the figures who made the name Eek-A-Mouse fly high. The background of their meeting is interesting to note, for this, he spoke seriously:
"Junjo Lawes is the gym teacher at my school. Then he took me to the studio. He was a genius in 1974 and we immediately recorded 2 songs. Me and Junjo recorded "Wa-Do-Dem"
The legend who is now living in Sweden, seems to have never stopped making or being a news persona. He always comes with a larger-than-life energy, not only in his work. He once did a cameo in the film "New Jack City" with veteran actor Wesley Snipes. To kultur he told this story, again with great laughter:
"At that time I was performing at a university in New York. Someone came up to me and said he liked my style. He is Mario Van Peebles, the director. A few weeks later, I got a call from him. I also got an offer to play a role in a film called "Marked For Death" starring Steven Seagal, but I turned it down because it wasn't suitable. Bang ding ding…!"
Perhaps it is his energy that drives him to keep spreading his ideas, something that has always been a driving force in his talent. He explained to us that ideas can come from anywhere, can be about anything. Diversity for him is an absolute thing that must be emphasized. We asked him to explain, was this one of the reasons behind the song "D'yer Mak'er" by the top British rock band, Led Zeppelin, which he once sang? Considering rock music is not close to its character. Eek-A-Mouse this time with a solemn expression said:
"There were various kinds of music before the birth of rasta and reggae. There was Nat King Cole, Marty Robbins, James Brown and several other musicians. Someone offered to recycle "D'yer Mak'er" and I agreed."
Still about his energy, we can trace through his series of powerful LPs, which include "Mouseketeer" (1984), "Mouse-A-Mania" (1987), "Eek-A-Nomics" (1988), "Eeksperience" (2001), "Mouse Gone Wild" (2004) and "Eek-A-Speeka" (2004). Recently, he poured his energy into a book collection of lyrics and some photos that have never been published before; "My Corona Year In Sweden 2020" (this book is already available and can be obtained through the website: eekamousemusic.com). Again he joked with the same loud laughter in response to this:
"Almost every day I write, write songs, write songs and write songs. You know what I'm saying? some people out there call me an alcoholic, a drugaholic and I'm a writerholic!"
At the end of our Q&A session, he would like to delivered the message, which he also addressed to all his fans in Indonesia, again with a witty and rhythmical laugh:
"Keep being yourself, don't be discriminative, never discriminate against certain groups because it's a power, the power of fellow human beings. That's a message from me, Eek-A-Mouse. Bang ding ding dong ding!"
(Reporter: Keyko, Text: Keyko & Yedi, Editor & Translation: Sam)