The Jamaican sound scene in Thailand is indeed so special, They have so many music units that happen to come with a massive custom speaker. Dubdah Soundsystem is one of the top performers there. This unit is run by a young selector and producer from Korat – Thailand.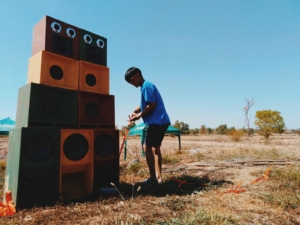 Dubdah Soundsystem has known Jamaican music since he was in high school. Living in an area far from urban areas, he learned the various ins and outs of Jamaican music through various media on the internet. His love for this genre motivated him to build mini speakers, which later became the beginning of Dubdah Soundsystem and helped him to perform various gigs in his city.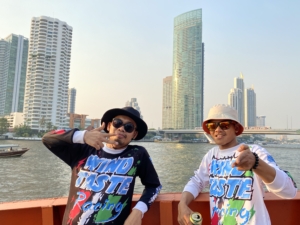 Dubdah Soundsystem then allied himself with a senior raggamuffin MC, MonkeyKing420. They went on an inter-city tour in Thailand. Also released a single titled "Korat Ragga Boom Boom" followed by debut LP "Johho Riddim" in 2019.
Dubdah Soundsystem also runs an online radio Dubdah Radio on its Facebook channel which regularly broadcasts every Monday from 21:00 – 21:30 Thai time. This radio broadcasts a variety of nexus Jamaican sounds, from classic sets to the new era of Dancehall music.
Enjoy Kultur's special mixtape from Dubdah Soundsystem.
Tracklist "Thai Reggae Mix":
The Original Thai Rasta – Ga-Pi

Youth Vibration – Fyah Burning

Automatic – Fyah Burning

Dubwise Selection – Fyah Burning

Dances Dub – Ga-pi 

Irie Day – Fyah Burning

Irie Day Everyday – Ga-Pi

เดิน – Rootsman Creation

Rootsman Burning Meets Ras Anatta – Rootsman Creation

Easy Skanking – 90110

Putorn SoundSystem – MonkeyKing420 

Man-A-Bad-Man – Jamaican English

Koh Phayam – Jago&Deemas J

Sweeite – Yugo Taguchi

Johho Dub – Slowburn Foundation

Karma Sound System – SRIRAJAH ROCKERS

ฟลอร์เต้นรำ (A Night On The Dance Floor) – The Super Glasses Ska Ensemble

สกาบ้านทุ่ง – The Super Glasses Ska Ensemble

ดุ่ย ดุ่ย – T-BONE

Country Boy – Jonathan and Calvin

Reggae Bus – DuffinJame Dubplate 

ยืนอยู่หน้ากระจก – ZEESKY

เมอร์รี่คิงส์ – B-King

ทะเล – Buddha Bless

เสม็ด – JOEY BOY

สาด – JOEY BOY

เซรากาปอย – JOEY BOY

นรก – Buddha Bless

Shake It Baby – Buddha Bless

ออกมาเต้นกัน (Reggae Dancehall) – Buddha Bless

Move – N.Y.U CLUB

RaggaMuffin Time – MonkeyKing420

sound killer sick riddim – MonkeyKing420 Dubplate 

You Make Me Hot – Kai Jo Brothers

Honey bunny – Plerny Feat. Jikkady Rastafah

Tom yum samuraiz – Thaitanium Feat.Yuichiro,Eva Blazin,Rastafa

FIGHT FOR HOMETOWN – KORAJAH

korat girl Korajah – KINGNOCROWN FAMILY

MISSYOU FT.TAMSTYLE X BLACKCHOC – KORAJAH MIXTAPE 2009

BABY GIRL – DTU CREW

ไม่ใช่เรื่องง่าย – DTU CREW

เจ็บตายแม่งมันแท้ – SLOTHMAN

รู้ตัวเองดี ft. 16 LAMBO , BEEST FLOW , ZERO O – SLOTHMAN

ลืมม่ลง – MonkeyKing420

แร๊พมา5ปี – MonkeyKing420 Feat. Juu masta izocope  

Dreamer – MonkeyKing420 

อยู่บ่ได้….ขาดกัญ Feat. สาวหมอลำขึ้นใหม่ – MonkeyKing420

Love Peace Marijuana – DuffinJame

ผู้สาวซัมเมอร์ – EMIRYBLACK, BlackHawk, J JAZZSPER, Morlamboi

พวงมะมาว 2 – MonkeyKing420

เงินก้อนโต – MONKEYKING420 Dubplate 

บษบาเสยงเทยน x Intense  พมพวง ดวงจนทร x Dancehall Pop Type Beat ProdDCQ BEATZ

กหลาบเวยงพงค x Savanah  พมพวง ดวงจนทร x Wizkid x Drake Type beat Prod DCQBEATZ

เทพธดาผาซน x AIR  เสร รงสวาง x Afrobeat Dancehall Club Type beat ProdBlack Rose Beatz

บุญผลา – MonkeyKing420 

Somtam Samurai – Juu, G. Jee, stillichimiya

2ยาม Time 2 Yam – JUU4E GJP

Rudeboy Message Jungle Mix – Jonathan and Calvin Ft. Romain Roots(Faygo), Tomawok,Bun Bun the MC

Youth Dem a Come – Gonja HiFi meet Duffin Jame, Au Numchok, Zen Note

พกเมยมาดวยหรอ x Vacation  ยย ญาตเยอะ x Tropical Dancehall Type Beat ProdBlack Rose Beatz

เมียไม่มี – JOEY BOY